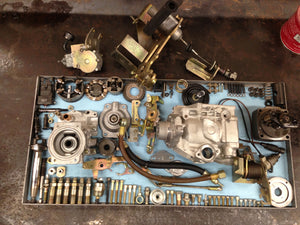 Rebuilding and Repair Services
The rebuilding of Injection Pumps, Injectors and Turbochargers is at the heart of what we do.  Large, or small, we do them all.  We specialize in working with Stanadyne, Delphi, Bosch, Denso, Diesel Kiki, Kioti  and other fuel brands, and Garrett, Holset, and Borg Warner turbochargers, to return your engine component to like new condition.  Want to know what it will cost?  That's always the big question, and because a rebuild is highly dependent on the current condition of the part, it is impossible to give a quote without seeing the item.  What we can do, is give you a worse case scenario price, and that will help guide you.  Our in-house rebuilding can typically save you hundreds of dollars over a new or exchange unit.
When you send your part to us for rebuilding, we will take a deposit to cover the cost of dismantling the item, so a full view of all parts and problems can be obtained.  We can then give you an exact price to completely rebuild it. 
Ship your item to us with a letter explaining the problem.  Be sure to include your full name and address, and be sure to include your email address and telephone number.  Send your part to our rebuild facility as shown below.   If you wish to carry it in, hours are by appointment only, so please call 803-892-0164 to schedule.
Send your item to our rebuild facility.  Address it to:
Moose Diesel
3830-B Augusta Highway
Gilbert, SC 29054
Don't forget your note with all your contact info!  Parts which arrive without a note inside may be lost or delayed.  Credit Card payments are accepted by phone.  If you wish to include a check, deposit fees vary.  Call to get a price.
---